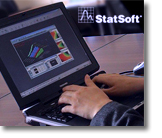 STATISTICA offers a comprehensive array of analytical tools for virtually any application.

Modern actuary has to constantly improve the skills of practical application of statistical theory in the core issues of insurance.
STATISTICA contains a wide array of methods for analyze actuary information, include database query tools, graph and descriptive analyze, advanced modeling and forecasting.
See Courses STATISTICA for actuaries
Modules and capabilities of STATISTICA:
1. STATISTICA Base – a comprehensive set of essential statistics.
▪ All STATISTICA graphics tools
▪ Descriptive statistics and exploratory data analysis
▪ Correlations Interactive probability calculator
▪ T-test (and other tests for group differences)
▪ Frequency tables, crosstabulation tables, stub-and-banner tables, multiple response analysis
▪ Multiple regression methods
▪ Nonparametric statistics
▪ Analysis of variance
▪ Distribution fitting
2. STATISTICA Advanced Linear/ Nonlinear Models – a wide array of the most advanced modeling and forecasting tools, including automatic model selection facilities and extensive, interactive visualization tools.
▪ General linear models
▪ Generalized linear/ nonlinear models
▪ General regression models
▪ General partial least squares models
▪ Variance components
▪ Survival analysis
▪ Nonlinear estimation
▪ Fixed nonlinear regression
▪ Log-linear analysis of frequency tables
▪ Time series/ forecasting
▪ Structural equational modeling
3. STATISTICA Multiple Exploratory Techniques – a broad selection of exploratory techniques for various types of data, with extensive, interactive visualization tools.
▪ Cluster Analysis
▪ Factor Analysis
▪ Principal Components and Classification Analysis
▪ Canonical Analysis
▪ Reliability/ Item Analysis
▪ Classification Trees
▪ Correspondence Analysis
▪ Multidimensional Scaling
▪ Discriminant Analysis
▪ General Discriminant Analysis Models
4. STATISTICA Neural Network – the most comprehensive selection of neural network methods with intelligent problem solvers and automatic wizards; C-code Generator.
5. STATISTICA Power Analysis – an extremely precise and user-friendly, specialized tool for analyzing all aspects of statistical power and sample size calculation.
▪ Sample size Calculation
▪ Statistical Distribution Calculators
▪ Confidence Interval Estimation
STATISTICA contains a built-in STATISTICA Visual Basic language (SVB) – professional environment for developing extensive custom applications. SVB automatically record macros (logs) and use them in future analyses.

Published books about STATISTICA
For more detailed information see www.statsoft.ru or contact StatSoft Russia: info@statsoft.ru